Legendary Los Angeles Dodgers Spanish-language broadcaster Jaime Jarrin recently retired after 64 years behind the microphone. Mentored by Vin Scully, his retirement and Scully's passing is the end of an era; to legions of fans, they were the voice of the Dodgers. They were like an old friend with whom they bonded as they shared in the excitement of rooting on the home team. We spoke to Jaime about his career, which included covering the fabled "Thrilla in Manila" boxing match, meeting sports icons we'll never see the likes of again, and what he plans to do next, which includes focusing on the Jaime and Blanca Jarrin Foundation. 
How old were you when you immigrated to Los Angeles from Quito, Ecuador; tell us a little about what those first years were like and how you ended up becoming the Spanish voice of the Dodgers?
I was 19 years old when I came to this country from Quito, Ecuador. It was 1955, June 24 when I arrived in Los Angeles. I was reading a lot of the United States, where should I go – New York, Chicago, Los Angeles. I saw the demographics were in my favor in Southern California, so many Spanish people here, so many Latinos so I decided that should come to Los Angeles because I had four years of experience in radio in Ecuador and I wanted to expand my horizons in radio so I came to Los Angeles, and I am so glad that I decided to come to Los Angeles because I love California. I love Southern California, I love the city where I live San Marino, so everything has been great.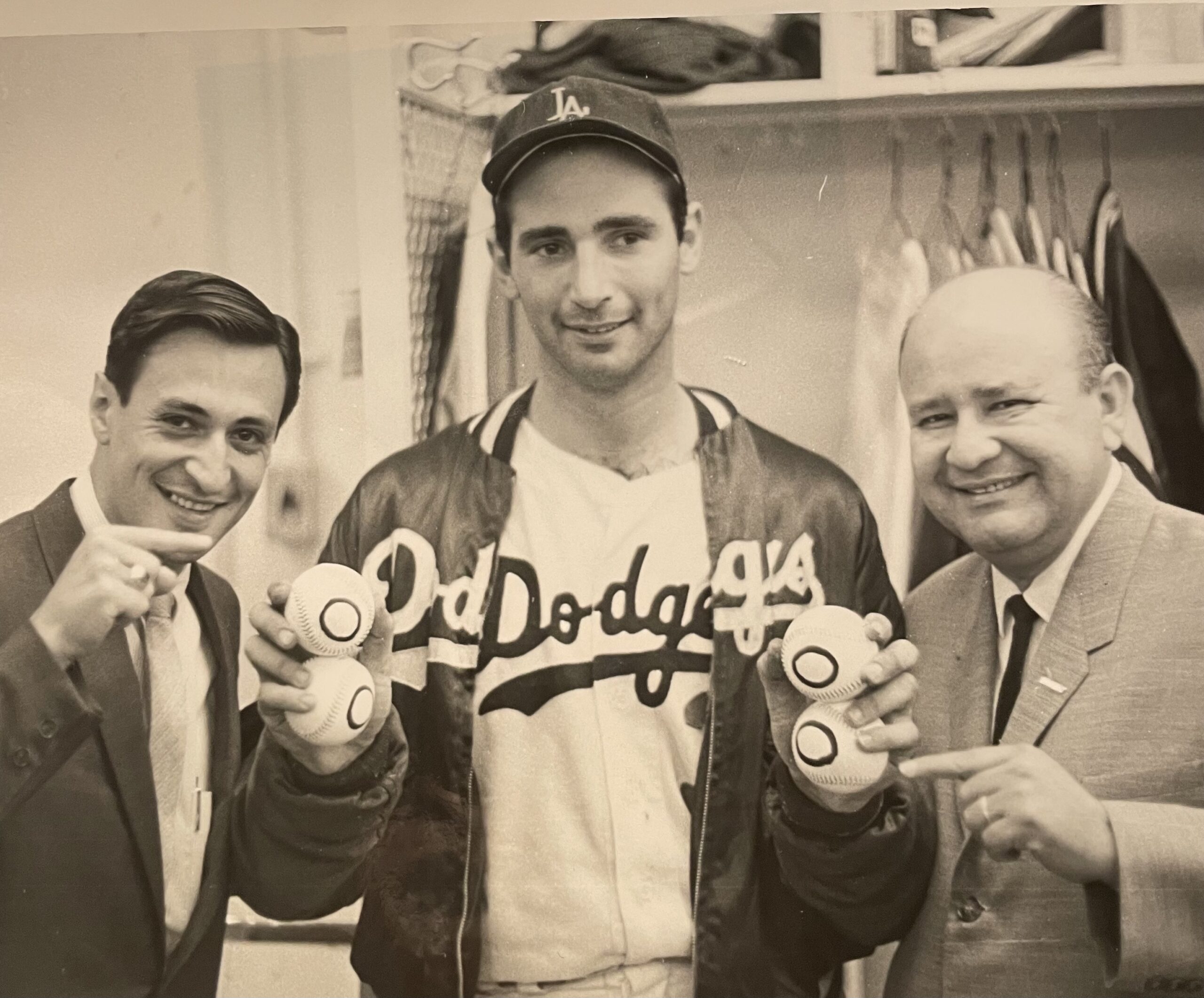 Was what that moment in your life that gave you the opportunity to be the voice of the Dodgers?
Well, I am a very special case. When I came to Los Angeles from Ecuador, I had never seen a baseball game in my life. I was raised a sports-minded person, so I was to follow in boxing, football/soccer, but not baseball, because in Quito they don't play baseball. So I came to Los Angeles, but I watched so many people around TV receivers and radio receivers watching the World Series in New York 1955 between the Yankees and the Brooklyn Dodgers. I was so surprised to see so many people in stores, in restaurants, in cars, everywhere watching and listening to those games. So I said, "That must be very important,"; I decided to go on weekends to watch the two Triple A teams in Los Angeles – the Hollywood Stars that used to play at Gilmore Field on Fairfax and Beverly and the Los Angeles Angels that used to play at Wrigley Field, a stadium replica of Wrigley Field of Chicago that was in South Central Los Angeles. So, I used to go there just to watch baseball without knowing that eventually the major leagues would come to Los Angeles. I was the news and sports director of KWKW when the Dodgers moved to Los Angeles. And the Dodgers got in contact with KWKW; they decided to transmit the games in Spanish. So one day the general manager and owner of KWKW, Bill Beaton, said he has the contract for the games and he needed two announcers. And he looked at me and said,  "I want you to be one of the announcers."  So I never applied for the job; he gave me the job and I didn't know much about baseball so I told Mr. Beaton, "Thank you very much for the offering, but I don't think I am capable of doing baseball on radio because I don't know exactly much about baseball." He said, "I am going to give you exactly one year, prepare yourself, I want you there."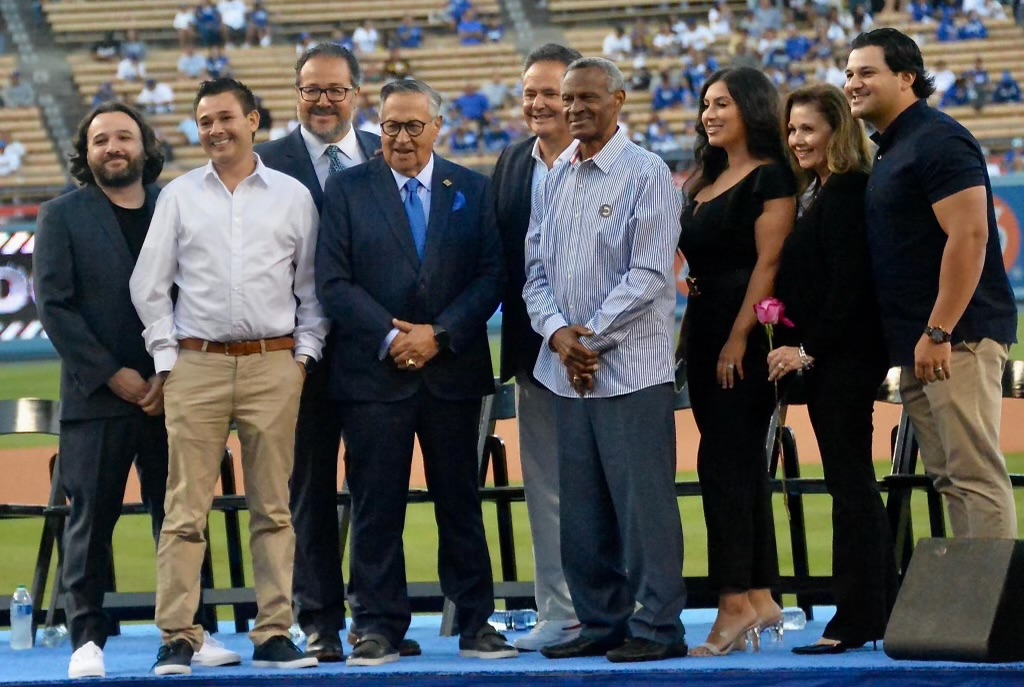 There was a young pitcher from Mexico who awakened the Latino fan base in the 1980's, you were his voice in English; tell me about your relationship with Fernando Valenzuela?
Fernando came to the Dodgers in 1980. Fernandomania started in not in '81, but in 1980, before he came to the Dodgers, he arrived in Houston. He didn't see action in Houston; from Houston, we went to Cincinnati, he didn't see action in Cincinnati, but it was in Atlanta, the last leg of our trip where he came to a game. I remember the first batter that he faced was Bruce Benedict, a catcher for the Atlanta Braves. And he hit a fly ball to centerfield. That was the beginning of Fernando. Then at the end of the season, the Dodgers were three games behind the Houston Astros, they were in first place. The Dodgers had to win three games, the last three games of the season, in order to tie the Astros. The Dodgers won those three games. Fernando was used a lot in that series. But the Dodgers tied the Astros and we had an extra game to decide who was the champion of the National League was going to be. And that game, many people thought that Fernando should be starting the game, Tommy LaSorda they didn't start him. I think he did the right thing, he said, "I am not going to give the responsibility of this game to a kid who has never started a game, who is only 19 years old, he doesn't speak a word of English," so I think it was Jerry Reuss, he started the game, but Joe Niekro was pitching for the Astros and he pitched a masterful game. The Dodgers lost the game and the Astros went to the World Series, 1981 was when Fernando started the first game of the season. He wasn't supposed to start the game, Jerry Reuss was supposed to start the game but was hurt before the game and then it was Burt Hooten next in line to start the game, and Hooten, also during batting practice, hurt himself, so, Fernando who was supposed to start the third game of the series, was called to pitch the game. And he did fantastically well! That was the first of eight wins in a row, five shut outs, he was unbelievable. Then the rest of the year was something very unique, very special, from a kid who was only 19 years old, a little bit chubby, long hair, Indian features. He was amazing. He was amazing, and the Dodgers asked me be with him and translate for him because he couldn't understand English, he couldn't even speak a word of English, so it was my pleasure to be with him everywhere, especially with the media.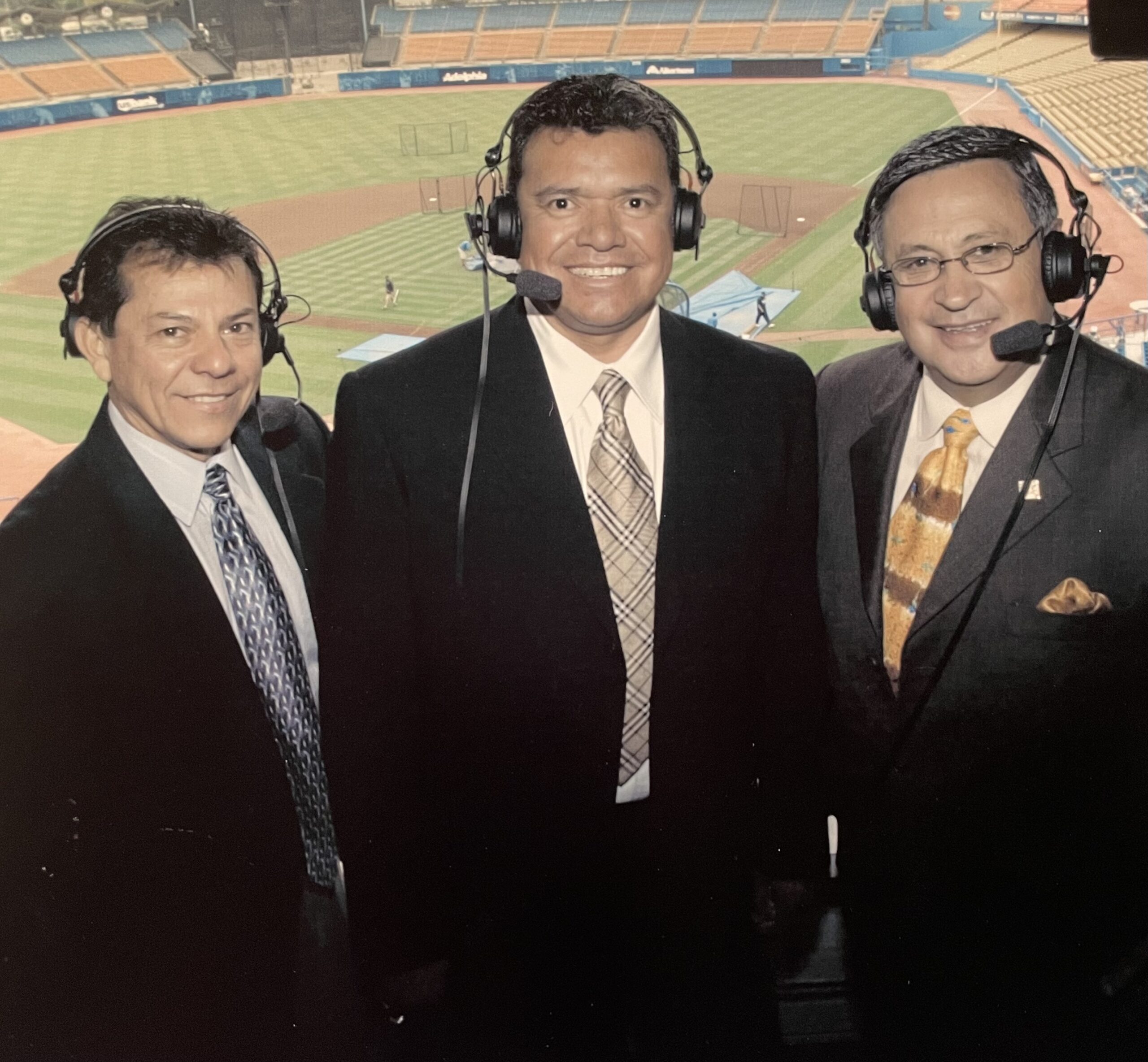 Is there anyone that you met in your life that was a highlight?
Well, I have been very fortunate as I said, to be broadcasting in baseball with the titans of my profession and also I have been so fortunate to see in-action, the best of the best of baseball. I saw Willie Mays at his prime, I saw Sandy Koufax, Don Drysdale, Bob Gibson, Henry Aaron, Mickey Mantle, Stan Musial – the best of the best. So, I have been very fortunate to have been able to call the action of those really, really great athletes. For me, it's very difficult to pinpoint who was the best or what is the greatest thing you ever saw. If I had been doing that for four or five years, that would be easy, but when you do that for 60-plus years, it's very tough to pinpoint exactly; but I could say Sandy Koufax was my first, not idol, because I never had idols. Vin Scully used to tell me, "Jaime, do your homework, but let me tell you one thing – don't get too close to the ballplayers. Keep a distance because if you become very close to them, that could affect your work." So that's what I think. So I had my special players like Sandy Koufax, Don Drysdale, Morry Wills, Roberto Clemente, Stan Musial, those were very special, very special players. 
Few people have done something as long or as well as you have with your career. Did you have to prepare mentally to step away after more than 60 years?
I haven't felt any change so far. I am going to stay with the Dodgers, they are asking me to stay, but not doing any broadcasts. I told them "I don't want to be like a boxer that retires and comes back, retires and come back." I am going to be an ambassador for the Dodgers. I will be a representative for the organization at a banquet, special events; I told them I will do four, five or six personal appearances during the year to represent the organization. So, I am going to be with them the rest of my life. My career as a broadcaster is over, but I am going to stay with the Dodgers, and I like that because that way I will be in contact with the community. The Latino community has been so great to me. My longevity is thanks to the community because they have supported me. In baseball, in radio, if you don't have the numbers you don't stay-on. They have been so great, we had always great ratings. 
What's next for you? What are your plans besides being an ambassador for the Dodgers?
I will be travelling. I would like to take my sons around the world. I know practically the whole world, I have been everywhere – Europe, China, but I want to take my sons with me, go with them to places I have already been, and places I have never been. So I will be traveling, a lot. I am reading a lot, watching TV a lot. Usually I stay up until 1:30, 2, 2:30 in the morning reading, or watching TV and I sleep until 9:30, 10 o'clock the morning. I like to read biographies from big men in history like I am reading right now the biography of Winston Churchill. Watching TV, a lot – I likes Westerns, western movies. I will be working with my son Jorge, running the foundation that we have.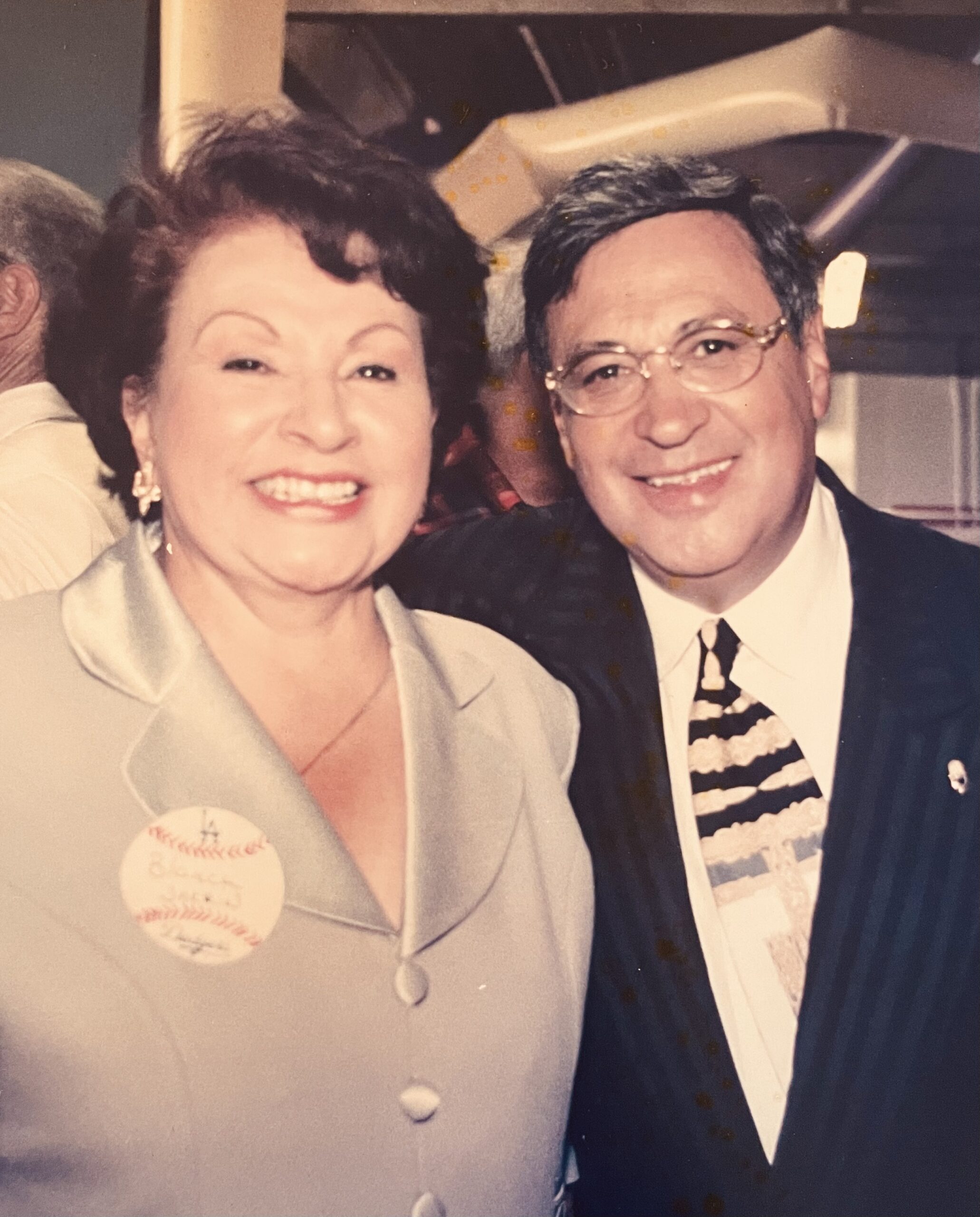 How does the Jaime and Blanca Jarrin Foundation figure into next chapter?
My wife passed away during spring training three years ago in Arizona of a heart attack. And my two sons, they wanted to perpetrate the legacy of my wife. She was a very generous person, extremely generous. So, they decided to form a foundation because we know the needs of many, many young students to go to university; they don't have the means to go there. We are going to give scholarships next week, $50,000 in scholarships. We have been able to have functions to raise money in order to give scholarships. We gave already, last year, $42,000 in scholarships, but next year we're going to give $50,000; $12,500 to students who wants to study law or communications. Law because there is an organization that has been helping us to form the foundation and communications because that is my field. We will give $12,500 and $5,000 to undergraduate students. We are also trying to reach an agreement with California State Universities, so that the universities can match my contribution. Let's say, if I give a scholarship of $5,000, it would be $10,000, or if it's $10,000, it would be $20,000. We see the need of students who are very intelligent, good qualifications, but they haven't the financial means to pursue their career. My goal would be to give 40, 50, 60 scholarships of $10,000 each one, at least. I am going to devote most of my time to help my son Jorge who runs the foundation.  
What's the phrase you say after every homerun?
(laughs) Well (yells out loud in Spanish "Se va, se va — y despídale con un beso!") Practically, it is "It's going, it's going — Kiss it goodbye!" 
---
 Jaime Jarrin will be featured in season three of "Everybody, with Angela Williamson" on KLCS. Visit www.klcs.org/schedule for a complete listing of the broadcast schedule.   
You can learn more about the Jaime and Blanca Jarrin Foundation at: https://jarrinfoundation.org/