Each week on Milk Street, fans get to watch recipes from around the world and in the process do some vicarious travel with host Chris Kimball. We first spoke to host Chris Kimball just over four years ago, after he left America's Test Kitchen to start Milk Street, and we reconnected with him to see how he has been doing these last three years and what tips he has for fans who want to learn to cook.
What have you been up to since we last spoke?
I saw early pandemic episodes of you with the Portland, Maine, baker that you often have on and then slowly there were episodes of friends in the U.K. and then your staff in studio alone.
Back on the road again. Went to London and Paris last fall. Did bistro classics in Paris but also reported on Vietnamese cuisine in Paris which was fascinating. In London, had the best curry of my life in a tiny restaurant in East Ham. Went to Jalisco, in Mexico, a year ago (sought out the "pies of Yelapa") and then a trip to Turkey, and then down to Antakya near the Syrian border, which was hit hard by the earthquake. Seeing videos of that town after the tragedy was hard to take in – so much of it was destroyed.
I loved the shows where you had friends from around the world, like the Ukrainian chef who lives in the UK, and her story and recipes; was that just to fill in the gaps during the pandemic or was that intentional for more episodes?
We prefer to get on a plane and visit in person. In fact, our editor, J.M. Hirsch just got back from Kiev where he reported on the importance of local recipes even in the time of war. [Visit: APnews.com and search "J.M. Hirsch" to read the article].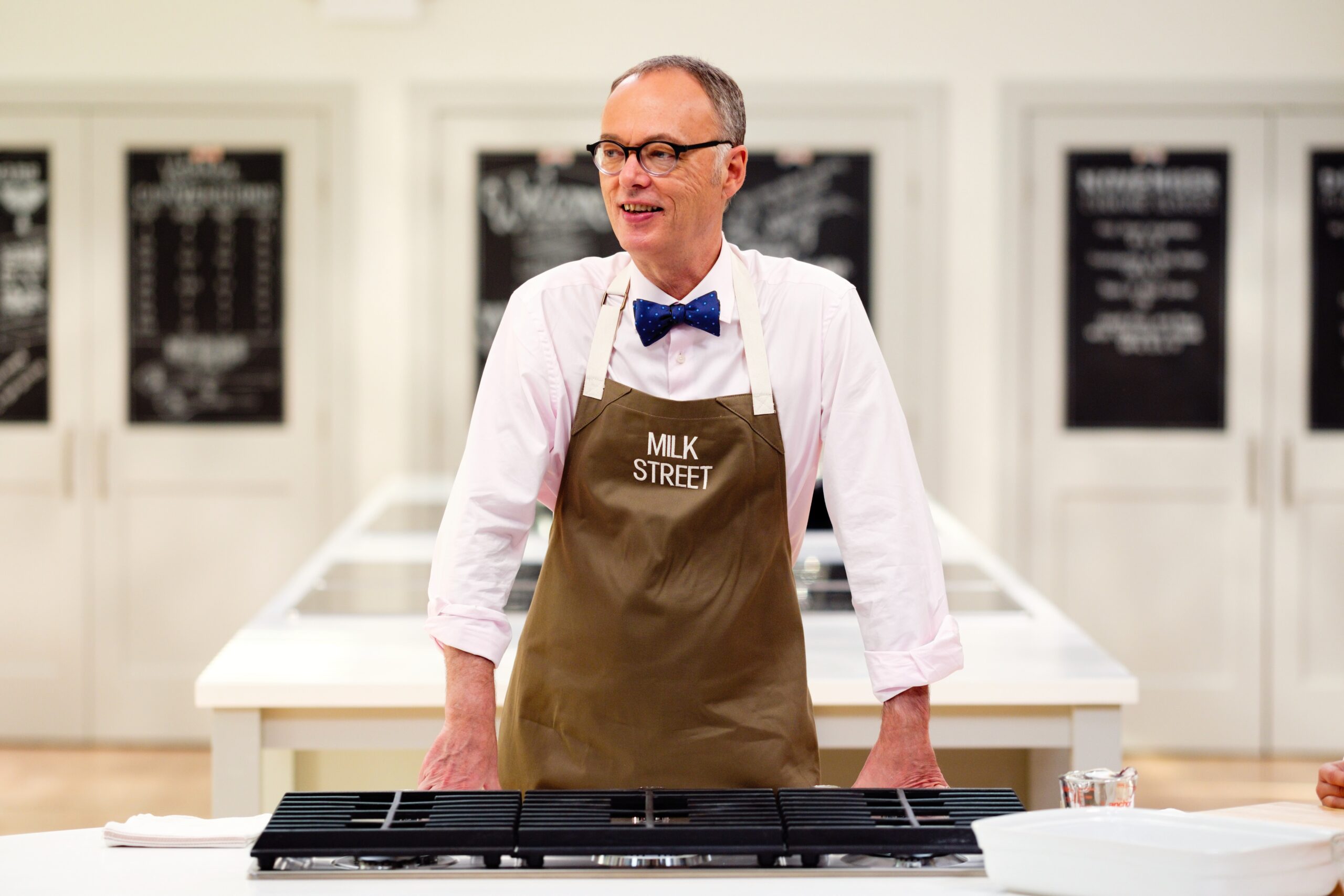 Filming your new shows since 2020, how is that now?
Back to normal – trying to make up for lost time. India. Pakistan. Romania. Mexico. Greece. Macedonia. Bangkok. South Korea.
What's a typical day like for you now?
A melting pot of chaos from radio to TV, to social media, to marketing, to travel, to recipe development, to writing, to playing "there are sharks in the library" with our two young kids.
Has 2020 changed you, have you learned anything from it?
No. I never change, and I am suspicious of people who do. I read the same books over and over (David Copperfield), I go to bed at 8:30, I fresh-squeeze grapefruit every morning for breakfast, and I keep rabbit hunting at the same Vermont farm year in and year out even though all the rabbits are long gone.
What keeps you going and doing what you do?
The horrifying notion that, someday, I will wake up without being needed. And that I know so little about cooking even after 40 plus years in the business.
When you don't feel like cooking, or in general, what is an easy healthy dish to make?
I make a pot of Kinmemai rice in my Donabe (a Japanese clay rice pot) and then put something on top – leftovers, quick cooked greens, steamed veggies – make a sauce out of soy, mirin, a bit of sugar and toasted sesame oil or use fish sauce, sugar, and lime juice. Or quick-cook soba or udon with a simple sauce plus scallions or whatever is on-hand.
I find the challenge with cooking is cleaning. How often do you clean your stove top?
I sauté a lot and it gets grease even on the cabinets around the stove.
The challenge with cooking is cleaning? Really? Then you must be a good cook. Look, if you have two young kids at home each parent would kill to do the cleaning (so the other one has to deal with the kids). Put on some opera or the Grateful Dead, have a glass of wine and clean that stovetop! Heaven.
Is there anything you'd like to add for the viewers here?
Yes. Stop worrying about cooking and just cook. Assemble 12 simple recipes and make them over and over until you know them by heart. Now you are a good cook!
---
You can read the complete interview with Chris Kimball on our Chefs Corner at KLCS.org. Tune-in to Milk Street Saturdays at 1:30 PM on KLCS and Thursdays at 6:30 AM on KLCS' Create TV; you can find the complete schedule at klcs.org/schedule.
For more from Chris, visit his website, 177milkstreet.com, or follow him on social media: @177milkstreet on Instagram and Twitter or @cpkmilkstreet on Facebook.